Product Description
Asphalt Road Maintenance Vehicle is a professional asphalt road maintenance and repair equipment. It is mainly composed of chassis, drum heating system, hydraulic system, storage box, emulsified asphalt spraying system, pavement heating wall, used material recycling system, etc., with complete asphalt mixture heating and insulation functions, emulsified asphalt spraying, asphalt pavement heating and repairing, used material recycling and other functions. It is suitable for repairing all kinds of asphalt pavement repair cases, such as national highway, airport and municipal road. Construction is not subject to seasonal restrictions; Achieved the highway maintenance requirements of rapid in place, rapid repair and rapid evacuation. It has the characteristics of high efficiency, low energy consumption, less pollution and convenient operation.
VEHICLE PARAMETERS
Vehicle Name

Asphalt Road Maintenance Vehicle

Roller Capacity

1.5CBM

Curb Weight

10905kg

Vehicle Size

7600*2400*3050/L*W*H/mm

Roller Heating Parameters

100000C

Diesel

1000KG

Rotary Drop-out Type

Infrared Sensing

Hydraulic Control Automatic Feeding Hopper

Electric Control System

PLC Programmable Control(SIEMENS)

Touch Screen/ Button

Hydraulic System

40ml/r

Integrated solenoid valve

395ml/r

Full Electric Control

150L

Automatic Discharging Mechanism

Mechanism

Driven by electrically controlled hydraulic motor

Discharging Speed

Adjustable

Integrated Emulsion Asphalt Spraying System

Hose Length

8m, with automatic recovery function

Emulsion Asphalt Tank

45L

Diesel Washing Tank

17L

Emulsion Asphalt Pressure Tank

20L

Integrated Heating Plate

Heating Area

2.5㎡

Heating Type

Thermal Radiation , Zone Heated or Integral Heated

Additional Functions

Heating plate can be rotated or sidesway

Recycling Bin System

Recycling Bin Capacity

300L

Control Type

Hydraulic Electric Control

Road Roller

Compacting Width

715mm

Excitation Force

15KN

Lifting Type

Adopt gantry lifting mechanism, side lifting, easy to operation , high safety

Chassis

Chassis Brand

Dongfeng

Engine

Cummins ISB 180

Emission Standard

Euro 5

Other Equipments

With LED arrow indicator light, improve the safety of construction

With hydraulic power output connector, it can provide power for external hydraulic tools
VEHICLE PICTURES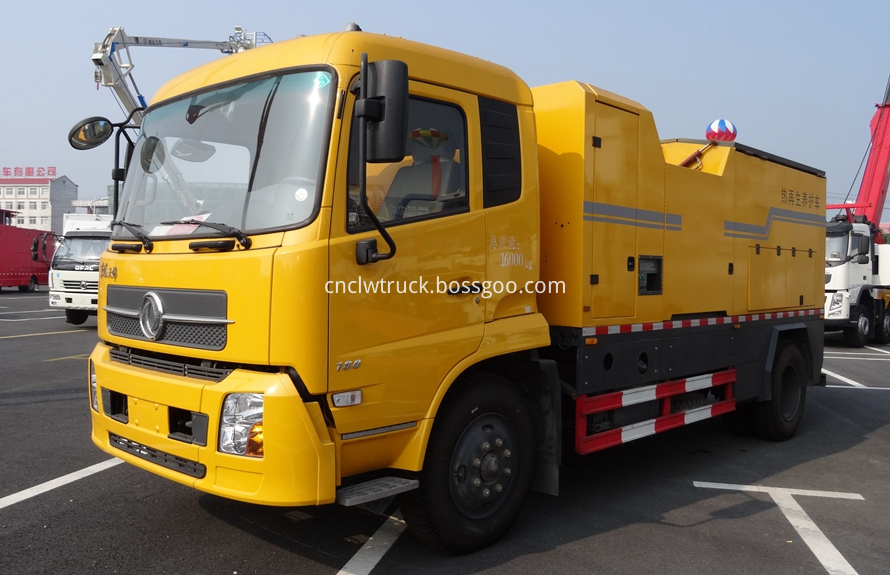 Dongfeng Tianjin Asphalt Road Maintenance Vehicle Picture 1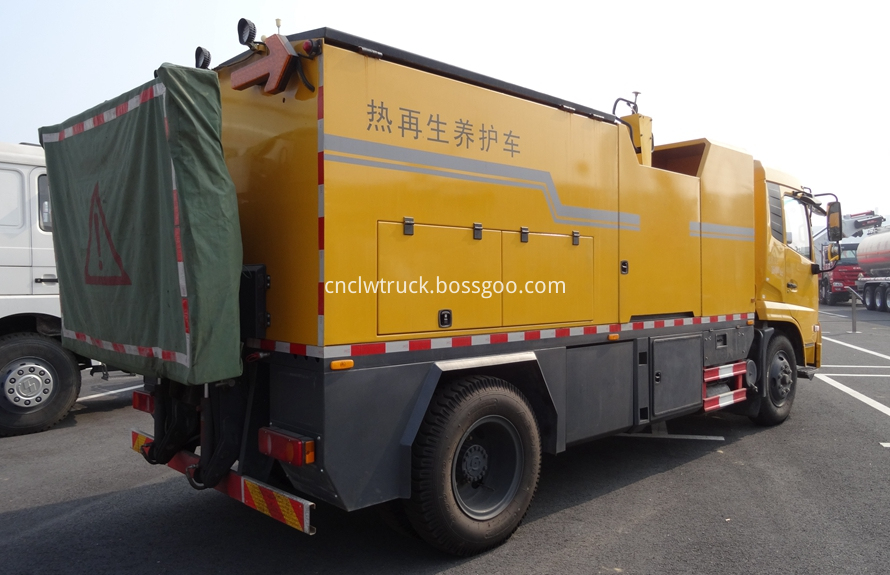 Dongfeng Tianjin Asphalt Road Maintenance Vehicle Picture 2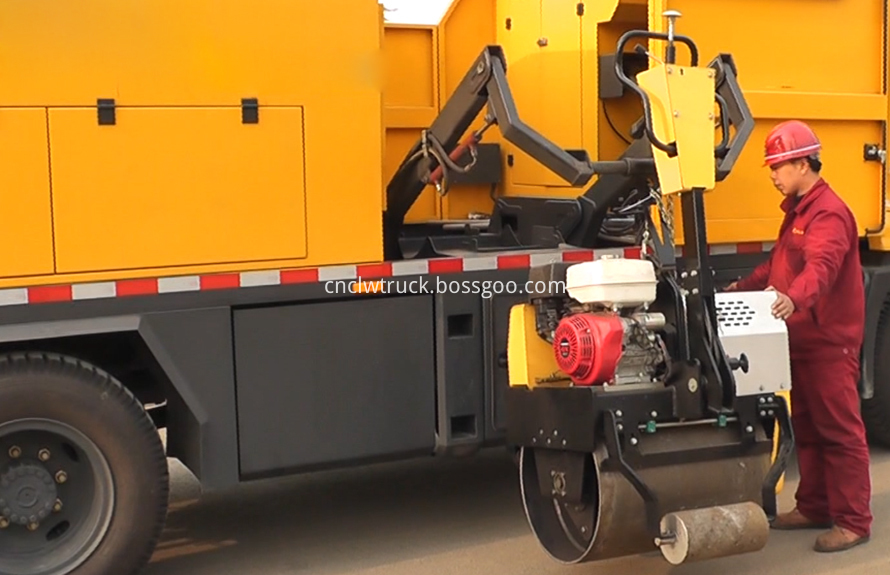 Dongfeng Tianjin Asphalt Road Maintenance Vehicle Picture 3
Dongfeng Tianjin Asphalt Road Maintenance Vehicle Picture 4
VEHICLE FEATURES
1. Dongfeng tianjin special modified chassis, cummins 180 horsepower engine, maximum driving speed up to 90km/h, to meet the needs of rapid highway construction and rapid evacuation.
2. Equipped with burner heating system, with cold material heating and hot material insulation function, not because of asphalt mixture causes the road maintenance, at the same time, can be on-site recycling of old materials, maximize the cost of raw materials and raw materials, small repair and repair of road surface and excellent use effect.
3. PLC touch screen intelligent control. Centralized control of drum heating, stirring, heating plate heating and other actions on the panel, and there are indicators and alarm lights to diagnose the fault.
4. Equipped with integrated emulsified asphalt spraying system to supplement the oil content of recycled materials, equipped with hose automatic recovery function, hand-held spray gun, and equipped with asphalt pipeline self-cleaning function.
5. The hydraulic system is powered by chassis engine and hydraulic output interface through the force lifter to provide hydraulic power for various hydraulic tools.
6. It is equipped with special LED construction lighting to meet the needs of night construction in sections with large traffic flow;Equipped with LED safety warning lights, effective visual distance to more than 200 meters. Convenient night construction can effectively remind the car attention to avoid.
7. With the old material recycling bin, through the electric control hydraulic drive tilt, the construction process generated by the waste and garbage away.

Need more details of our Truck with Asphalt Road Maintenance Vehicle welcome to contact us at any time & will respond in 24hours.