Product Description
Sinotruck HOWO slurry sealing layer truck is also known as micro table paver: add construction medium (asphalt) to the asphalt tank, add construction water to the water tank, add additives to the booster tank, add filler (cement) to the packing box, add graded stone to the bin.Start the auxiliary engine to drive the hydraulic power system to work, operate and control the switch to realize the asphalt pump working cycle, water pump working cycle and mixer work, and complete the adjustment of the paving box and operate the hydraulic control device to realize the paving box work.Start switch, asphalt, water, aggregates, fillers, additives will automatically according to the control program into the mixer, strength the mixer, stir to form a slurry mixture and into paving in the box, the paving box device spiral points will be evenly distributed in the slurry mixture paving box, through paving box will slurry mixture paving the road surface.Stop the control switch, each system will finish the work according to the automatic control procedure.Clean all systems to complete the work.
VEHICLE PARAMETERS
| | |
| --- | --- |
| Items | Parameters |
| Chassis Brand | SINOTRUCK HOWO |
| Chassis Model | ZZ1167 |
| Engine Model | D10.31-50 310 |
| Auxiliary Engine Model | Cummins 140HP Diesel Type |
| Tire Spec | 12.00R20 |
| Asphalt Tank Capacity | 3000L |
| Water Tank Capacity | 3500L |
| Stone Warehouse Capacity | 12m³ |
| Assistant Tank Capacity | 400L |
| Stuffing Box Capacity | 1000L |
| Spread Case Width | 2.4-4.2m |
| Spread Thickness | 5-15mm |
| Min Working Speed | 1km/h |
| Hydraulic System | American Brand |
| Control System | Germany SIMENS |
| Spread Case Control | Hydraulic System |
| Assistant Control | Manual & Power |
| Application Range | Micro surface treatment, thin slurry seal layer, PCA road surface, color road surface |
| Curb Weight | 17tons |
VEHICLE PICTURES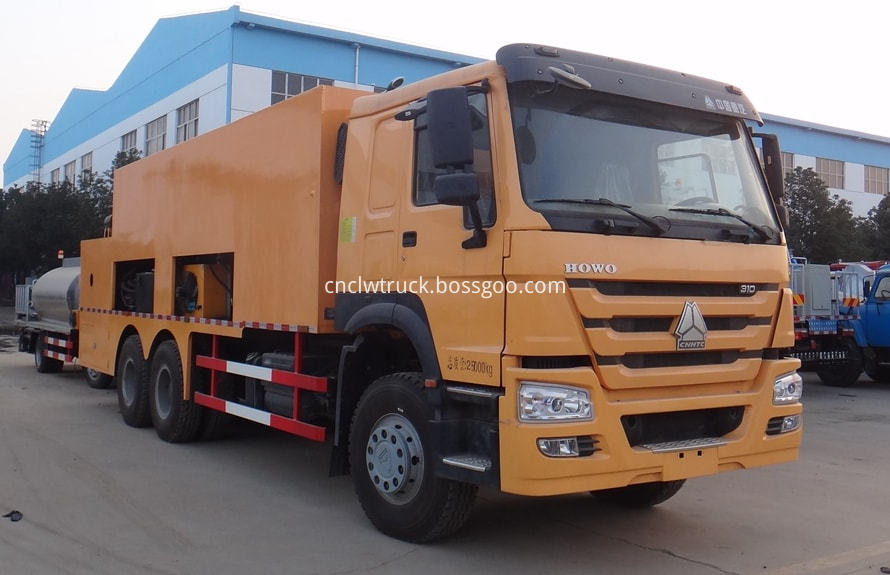 SINOTRUCK Asphalt Distribution Truck Picture 1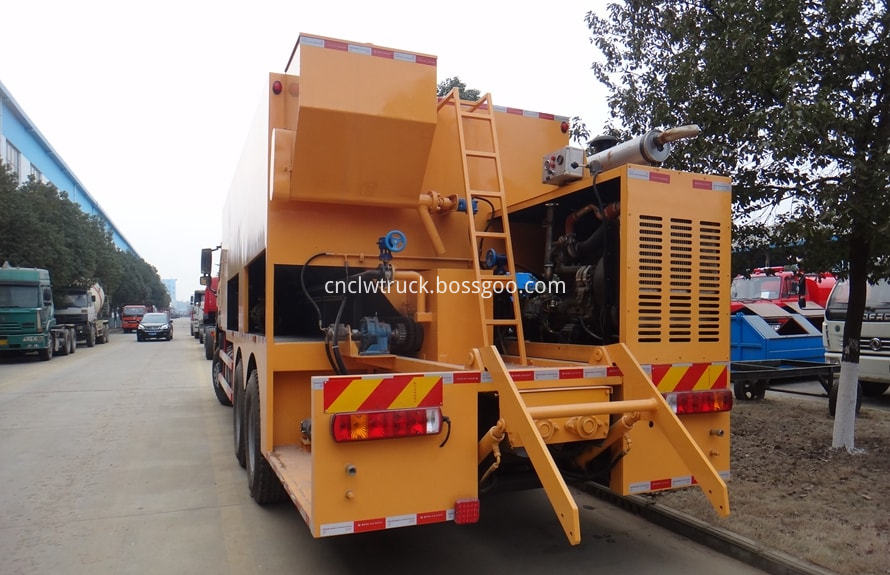 SINOTRUCK Asphalt Distribution Truck Picture 2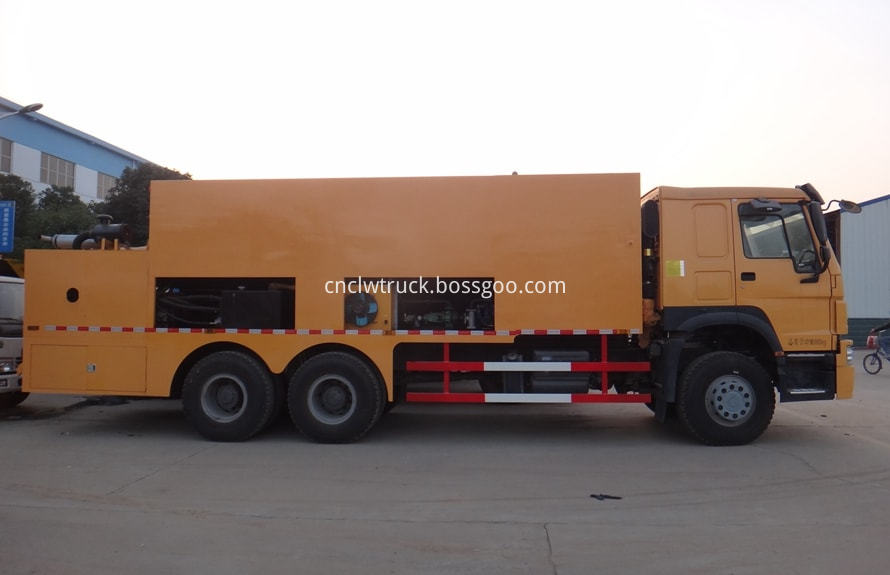 SINOTRUCK Asphalt Distribution Truck Picture 3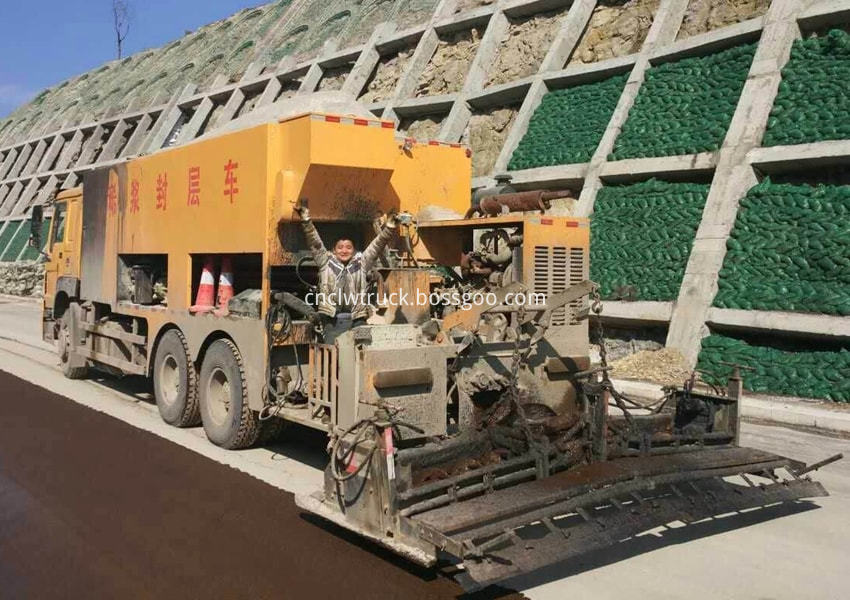 SINOTRUCK Asphalt Distribution Truck At Work
VEHICLE FEATURES
1. Independent high-power engine, provide strong power, more suitable for the construction of micro table.
2. The touch screen operation is performed automatically according to the input parameter system.
3. Automatic control technology, no need to re-calibrate the metering system when the mixing ratio changes.
4. The aggregate, powder, water, asphalt and additive systems are equipped with high-precision import monitoring and measurement components.
5. Front and back, right and left completely symmetrical double head retractable large diameter four spiral cloth mechanism, to ensure the quality of paving.
6. During the paving process, the spiral steering and speed can be adjusted to achieve no dead Angle, no segregation cloth and secondary agitation.
7. Only one person needs to complete the work process on the rear operating platform, which is convenient and simple to operate.
8. Two sets of batching system, which can automatically batching or finish the operation manually on the operating platform.
9. Paving width, paving thickness can be arbitrary adjustment.

Need more details of our Asphalt Distribution Truck welcome to contact us at any time & will respond in 24hours.