Product Description
Guaranteed 100% Dongfeng H5 XCMG 12tons Mobile Crane Truck for Sale
A Mobile Crane Truck is a hydraulic crane mounted on a truck which can do loading & unloading work without need of any external crane and manpower. It is an integrated solution for loading, transportation and unloading of the goods.
There are telescopic boom cranes and knuckle boom cranes, covering a wide range of capacities as follows:
Telescopic Boom Crane: 2Ton, 3.2Ton, 4Ton, 5Ton, 6.3Ton, 8Ton, 10Ton, 12Ton, 14Ton, 16Ton, 25Ton
Knuckle Boom Crane: 1Ton, 2Ton, 3.2Ton, 4Ton, 5Ton, 6.3Ton, 8Ton, 10Ton, 12Ton, 14Ton, 16Ton, 25Ton.
Heavy Duty Crane:50Ton, 80Ton, 120Ton.
The cranes can be of famous brands as Palfinger (Canada), Unic (Japan), Tadano (Japan), XCMG (China top brand), Zoomlion, Sany, etc.
VEHICLE PICTURES :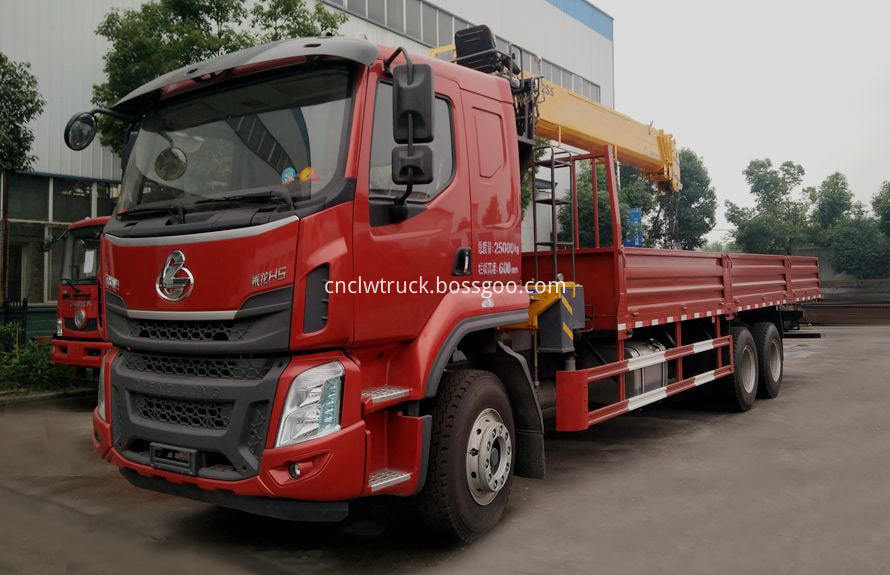 Dongfeng H5 XCMG 12tons Mobile Crane Truck Picture 1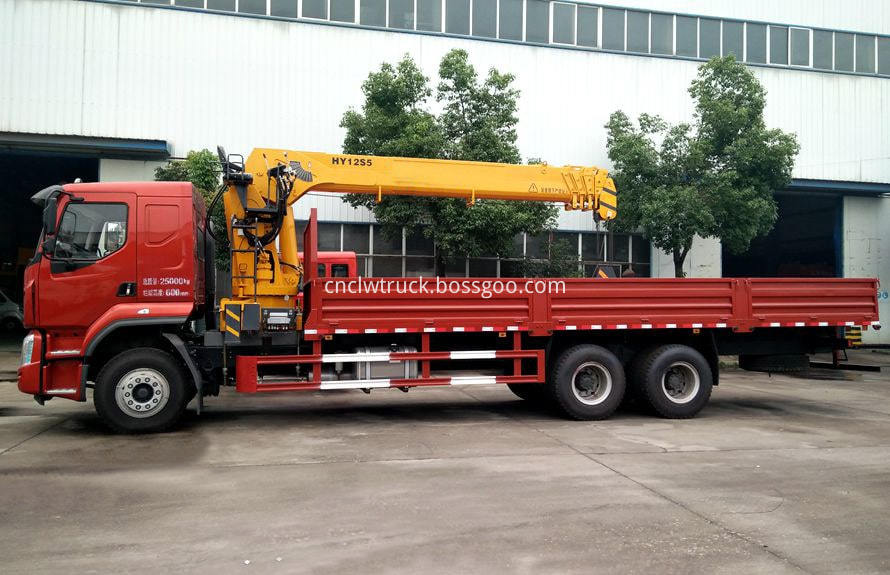 Dongfeng H5 XCMG 12tons Mobile Crane Truck Picture 2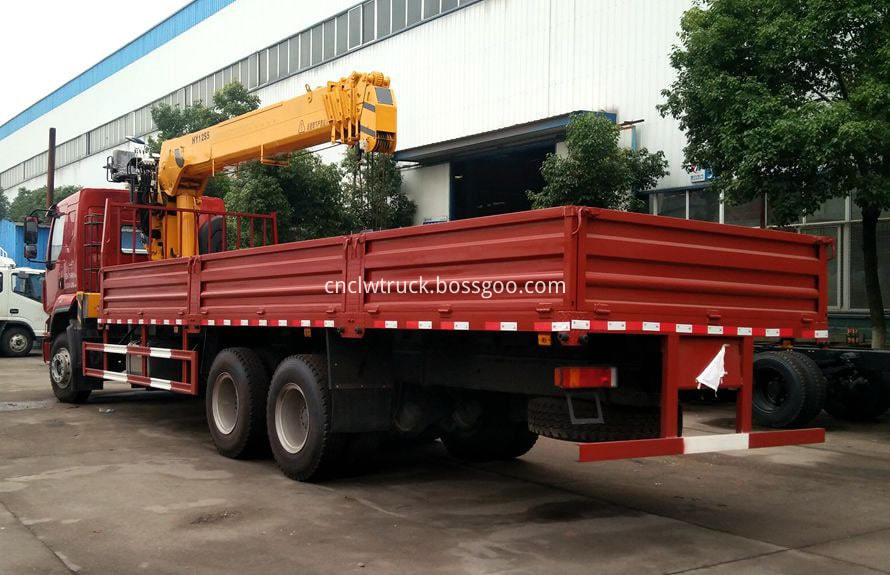 Dongfeng H5 XCMG 12tons Mobile Crane Truck Picture 3
VEHICLE PARAMETERS :

VEHICLE PARAMETERS

Chassis Brand

DFAC

Condition

Brand New

Crane Capacity

10T/12T

Crane Brand

XCMG/SANY

Remote Control

Arm Type

Folding/Telescopic

Cab

H5

Engine Power/displacement

240HP/6870ml

Gearbox

8 Speed

Overall Size

12X2.55X3.7/m

GVW

25000kg

Cargo Size

8.4X2.45X0.6/m

Curb Weight

15190kg

Vehicle Frame

282mm crossbeam

Tire Spec.

11.00R20

Rear Axle Load

10T

Brake System

Air Brake




Wheelbase

5850+1350mm

Allow Passengers

3

Max Speed

90km/h

Drive Model

6X4, LHD/RHD
CRANE PARAMETERS

XCMG 10T Telescopic Arms

XCMG 12T Telescopic Arms

Max Lifting Capacity(kg)

10000

12000

Min Lifting Capacity(kg)

1500

1800

Working Radius(m)

12

12.5

Lifting Height(m)

14

14.5

Crane Weight(kg)

3765

4316

Outriggers Span(mm)

2280-5580

2270-5270

Rotation Angle

360 Degree

360 Degree
CRANE DIAGRAM :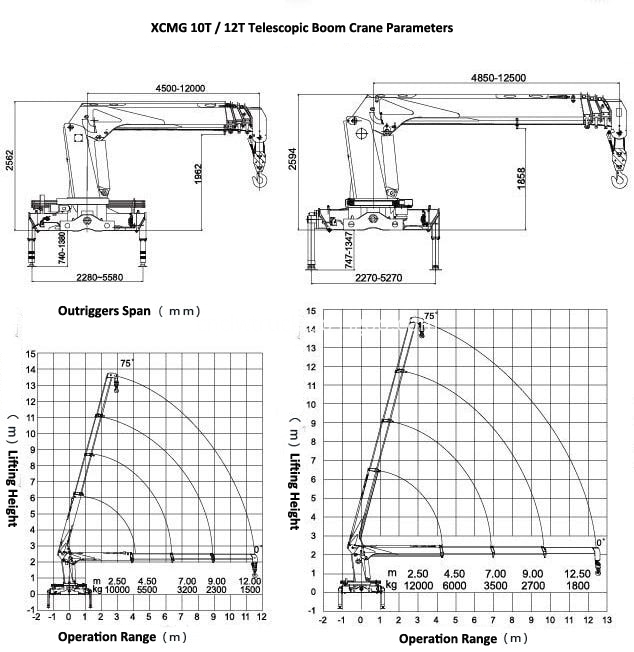 Chassis Configurations: Dongfeng H5 10 Wheels Chassis, Single-row Cab with one sleeper,Dachai Diesel 240HP Engine, 8 Speed Transmission, 5.5T Rront Axle, 10T double Rear Axle, 282mm Crossbeam, 11.00R20 Tire, ABS, Air Brake, Power Steering , A/C, Electric Windows

Crane Configurations:
Telescopic boom type, simplex pump or double pump optional, lifting capacity 12000kg, length of arm4.85m(not extend)-12.5m(full extend), four outriggers ,360 degree rotation; Working radius 12.5m, lifting height 14.5m.
Cargo Configurations:
Cargo Size:8400*2450*600/L*W*H/mm, cargo bottom thickness is 5mm/4mm, side thickness is 2mm.
Mobile Crane Truck Advantages :
1. Diesel fuel type, power engine,perfect driving performance

2. Wide and high-speed rotary, easy operation, strong load capacity.
3. Unique design, prolonged service life.
4. Wide application range, suitable for landscaping,electric power, petro-chemical industry, advertisement installation, construction site, narrow road, underground garage, service station, 4S shop, field rescue, factory workshop transportation, etc.

Need more details of our Mobile Crane Truck welcome to contact us at any time!