Product Description
VEHICLE PARAMETERS
| | |
| --- | --- |
| Items | Parameters |
| Rated Tank Capacity | 8m³ Asphalt/ 12m³ Gravel |
| Spray Width | 3500mm |
| Spray Density | 0.2-3.0 kg/㎡ |
| Max Speed | 90km/h |
| GVW | 25000kg |
| Rated Load Weight | 6670kg |
| Curb Weight | 18200kg |
| Engine Power | WEICHAI 247KW |
| Gearbox | FAST 9Speed |
| Fuel Type | Diesel |
| Emission Standard | Euro 5 |
| Wheelbase | 4375+1400mm |
| Tire Spec | 11.00R20 |
| Vehicle Size | 9960*2550*3700/L*W*H/mm |
| | | |
| --- | --- | --- |
| Items | Domestic Brand | International Brand |
| Tank Structure | Three layers of insulation tank | Three layers of insulation tank |
| Asphalt Pump | Domestic brand, 950L/min | Belgium TGGP-185-125 |
| Hydraulic Motor | 05-130-BD31 | Germany GM05-90-HBD40 |
| Hydraulic Pump | 50-20-16 | Germany A11V060EP20D-10L |
| Proportional Valve | EFBG-03-160-HF | EFBG-03-160-HF |
| Reversing Valve | Domestic Brand | Domestic Brand |
| Overflow Valve | Domestic Brand | Domestic Brand |
| Control Type | Computer | Computer |
| Control System | Germany SIMENS | Germany SIMENS |
| Heating Model | Conduction Oil | Conduction Oil |
| Burner | Italy | Italy |
| Heat Oil Pump | 40-25-160 | 40-25-160 |
| Gasoline Generator | 6KW | 6KW |
| Spray Nozzles Qty. | 32 | 32 |
| Spray Medium | Hot asphalt, emulsified asphalt, rubber asphalt | Hot asphalt, emulsified asphalt, rubber asphalt |
| Spread Quality | 0.2-3.5L/㎡ | 0.2-3.5L/㎡ |
| Spray Width | 3.5m | 3.5m |
| Gravel Diameter | 5-25mm | 5-25mm |
| Spread Roller Motor | OMR-80 Danfoss | OMR-80 Danfoss |
| VSS | Germany STW | Germany STW |
| Temperature Controller | Domestic Brand | Japan Omron PT100 |
| Spiral Agitator | Domestic Brand | America Eton ZK195 |
VEHICLE PICTURES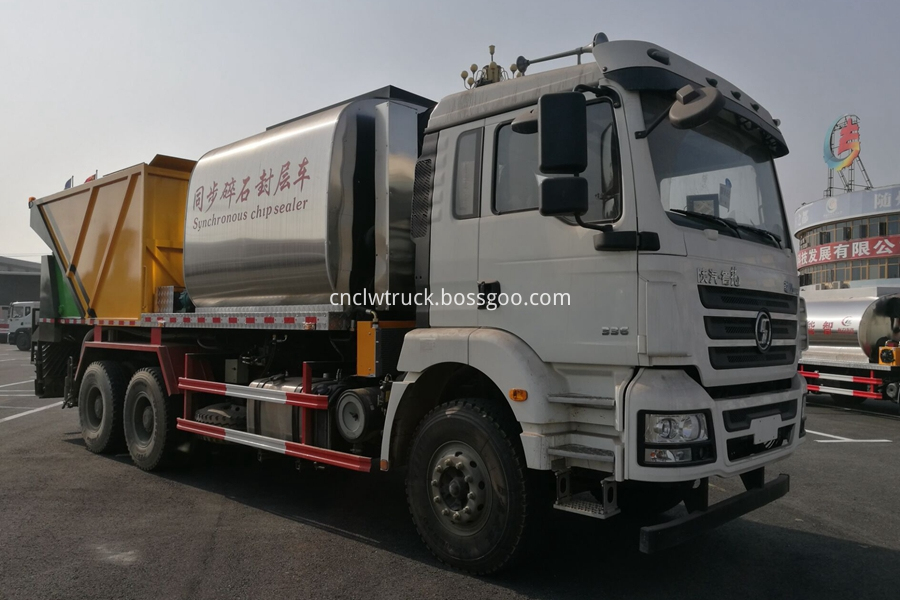 SHACMAN 20CBM Synchronous Chip Sealing Truck Picture 1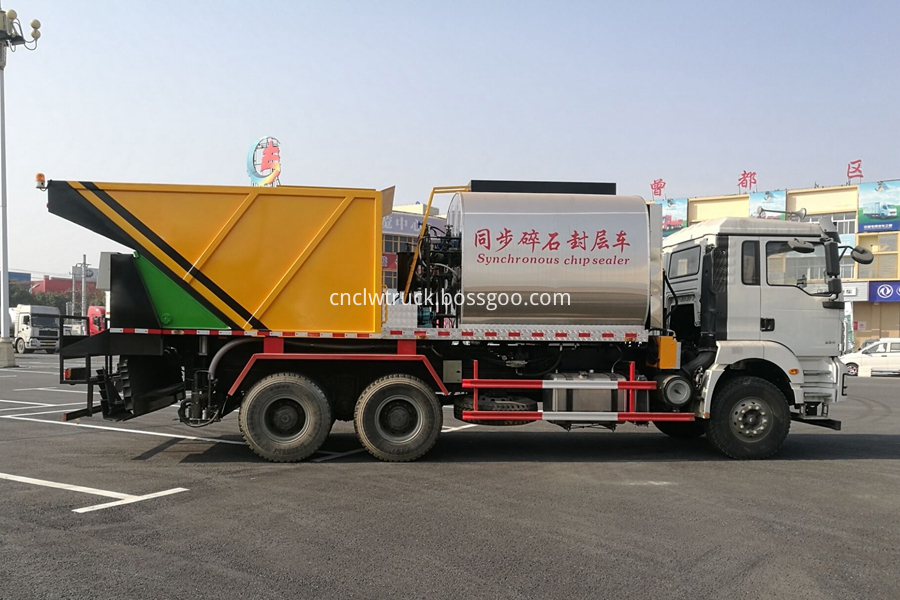 SHACMAN 20CBM Synchronous Chip Sealing Truck Picture 2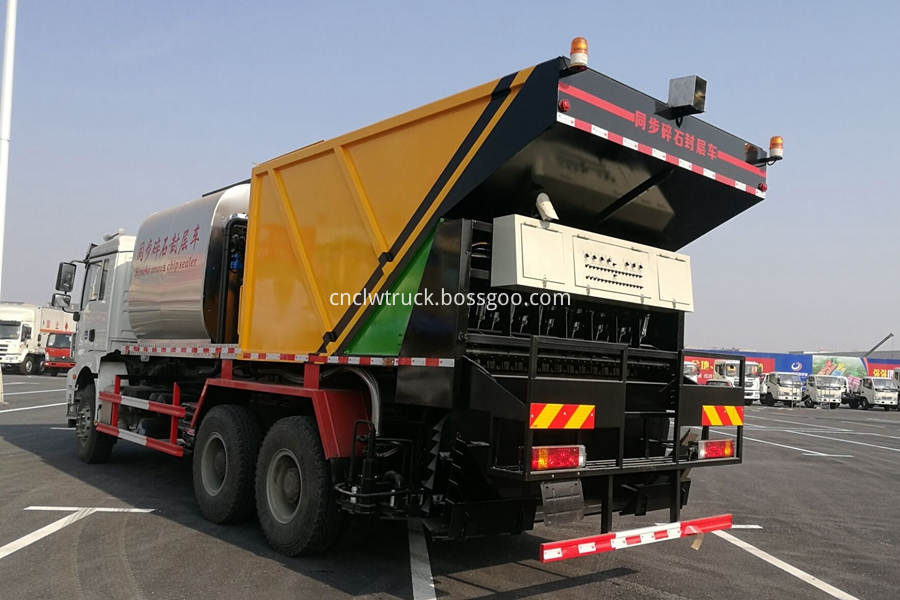 SHACMAN 20CBM Synchronous Chip Sealing Truck Picture 3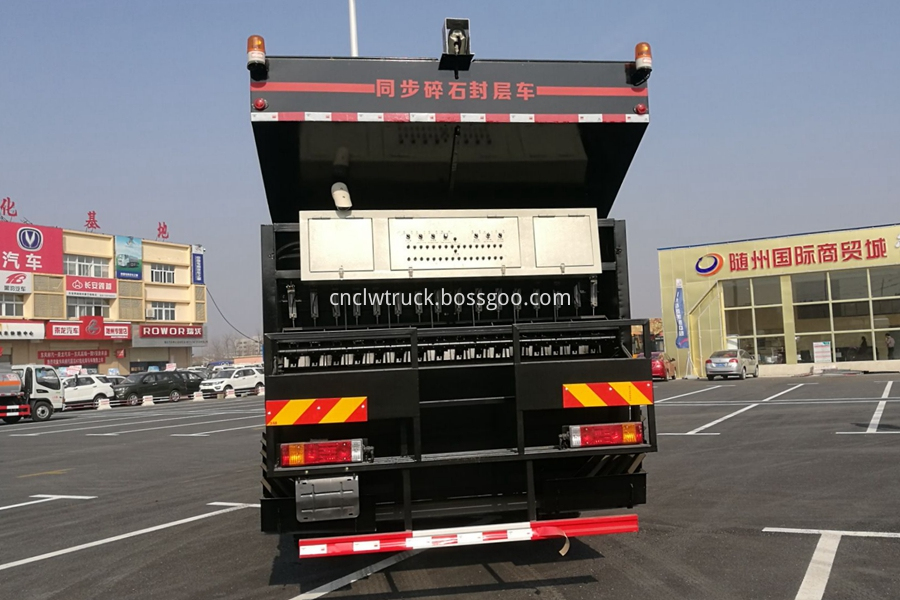 SHACMAN 20CBM Synchronous Chip Sealing Truck Picture 4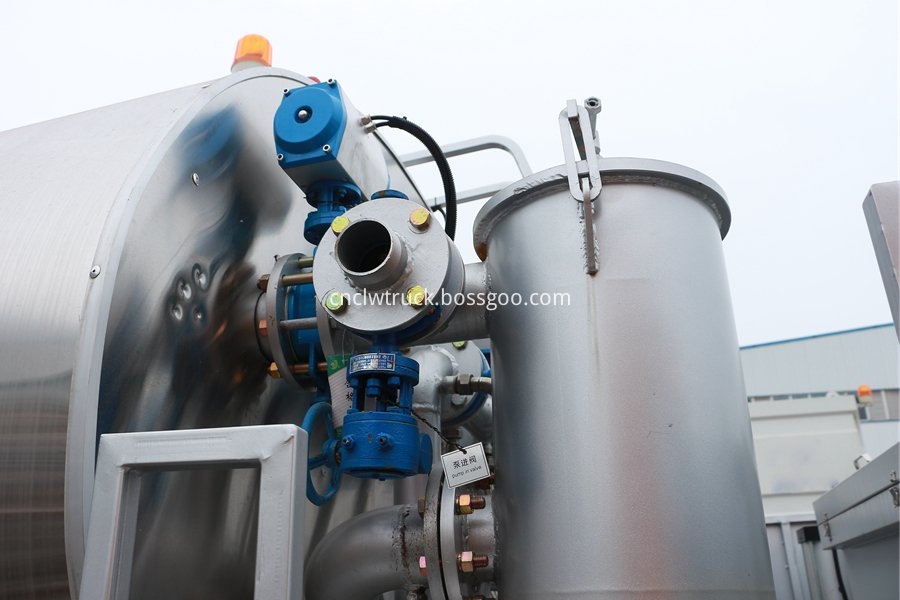 SHACMAN 20CBM Synchronous Chip Sealing Truck Picture 5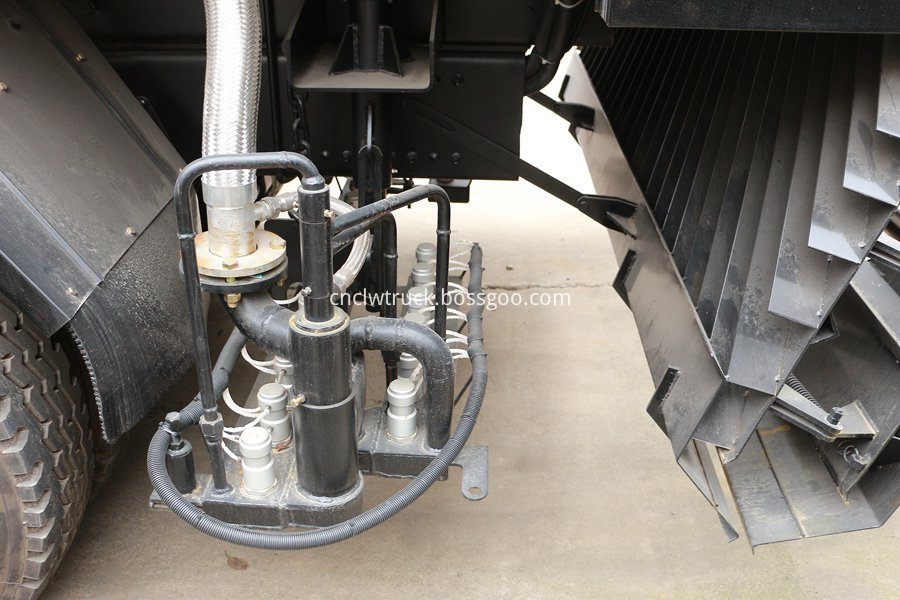 SHACMAN 20CBM Synchronous Chip Sealing Truck Picture 6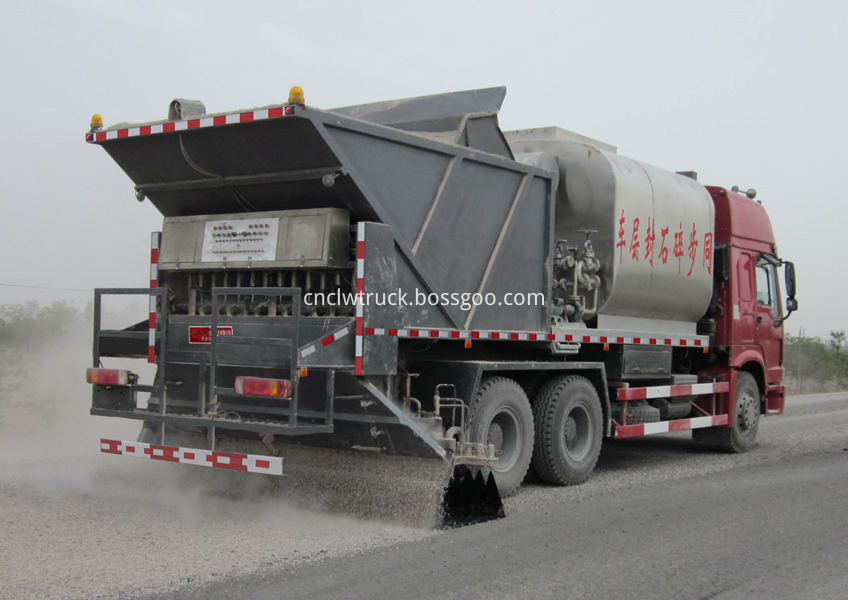 SHACMAN 20CBM Synchronous Chip Sealing Truck At Work
VEHICLE FEATURES
1. Adopt of full hydraulic drive mode, do not need to add any auxiliary power to make the operation more simple and convenient.
2. Exclusive use of efficient heat conduction oil boiler heating, the temperature rise speed is greatly improved, breaking the traditional flue heating way.
3. Synchronous Chip Sealing Truck with an internal lift hopper can achieve stone dust distribution work, more convenient culvert construction, bridge construction, and bend construction;
4. Synchronous Chip Sealing Truck completely adopts electrical control, high degree of automation, can accurately calculate the equipment in the construction process of the amount of asphalt and the amount of stone dust spreading;
5. Angle meter is adopted for material door control to ensure the precision of cutting;
6. Reduce labor intensity of construction, save human resources, reduce construction cost, improve work efficiency and quality;
7. Stable operation of the whole machine, uniform spreading, free adjustment of spreading width of asphalt;
8. Good insulation layer to ensure that the insulation performance index ≤20℃/8h, and anticorrosive and durable;
9. Can spray various asphalt media, spreading stone materials from S3 ~ S15mm;
10. The equipment adopts nozzle with high machining accuracy to ensure the spraying consistency and effect of each nozzle;
11. The overall operation is more user-friendly, with remote control and on-site operation, which brings great convenience to the operator;
12. Zero start spraying is realized through perfect combination of electric control and constant pressure device of hydraulic system;
13. The whole machine after many engineering construction improvements, reliable performance, easy operation and maintenance, cost-effective.

Need more details of our Synchronous Chip Sealing Truck welcome to contact us at any time & will respond in 24hours.